Regular price
Rs. 2,999.00
Regular price
Rs. 3,581.00
Sale price
Rs. 2,999.00
Unit price
per
Sale
Sold out
Description:
This pocket night diaper combo pack contains
1)  3 Pocket diaper shells
2)  3 Bamboo inserts
3)  3 Hemp inserts
4)  3 Fleece liners
5)  
1 Medium size wetbag (20*25cm)
You save Rs.582 (16%) in this pack. 
Discount codes are not applicable on combo packs.
The prints may vary. The given image is for reference only.
For print preferences kindly whatsapp +91 9745092806.
More info:
Pocket diapers:
KiddieHug pocket diaper is made up of three completely different layers.
The waterproof outer material that prevent leaks, the inner layer that touches the baby's skin and keeps the baby stay-dry. Together, those two layers form a pocket that is stuffed with the third layer, an absorbent material (insert).
KiddieHug pocket diapers are the most popular style of cloth diapers and don't require any additional covers.
They give an excellent leak-proof performance with double guessets.
You can choose the type of insert you want. (Bamboo and Charcoal bamboo)
 
How to use?
STEP 1: ALWAYS wash the diaper at-least 2-3 times before use using detergent. This is because Bamboo is a natural fiber and needs to be washed before it can absorb completely. Skipping this step CAN CAUSE leaks.
STEP 2: ALWAYS size diaper(S, M, L, and XL) before use using the front panel of snaps. There are 12 snaps in front meant for adjusting size. The size must be such that there are NO GAPS around the thigh. It fits from 4-17 kg. A loose diaper can be uncomfortable for babies.
STEP 3: Stuff the insert(s) inside the sized pocket by folding the extra part. Ensure that the insert is placed properly and snap it on the baby.
How to wash?
Washing cloth diapers is simple and easy. Cloth diapers can be washed like regular garments in the machine or by hand.
Use regular detergents such as Surf / Tide and not liquid detergents containing conditioners/fabric softeners or fragrances. These additives can cling to the fabric affecting absorbency and also irritating baby's delicate skin.
Also, no Detergent bar and use of brush allowed.
The diapers can also be dried in machine or sun-dried.
 
Why KiddieHug?
Easy to use diapers, very much like disposables.
Trim crotch diapers.
Always high-quality fabrics keeping baby's comfort and skin in mind.
Super cute and bubbly prints ever.
Support Team available on facebook/call / WhatsApp ready to help you!
NOTE :
The diaper contains natural fabrics and hence takes at-least 5 washes to reach optimum absorbency. **Please Read instructions leaflet and call us on our helpline at the number mentioned in the flyer.** 
This product falls under the Non-refundable category. 
If you are new to cloth diapering, it may take some learning to get it right. Please feel free to reach out to us for any help. We will be happy and prompt to reply! Our helpline – kiddiehug@gmail.com / +91 9745092806
Share
View full details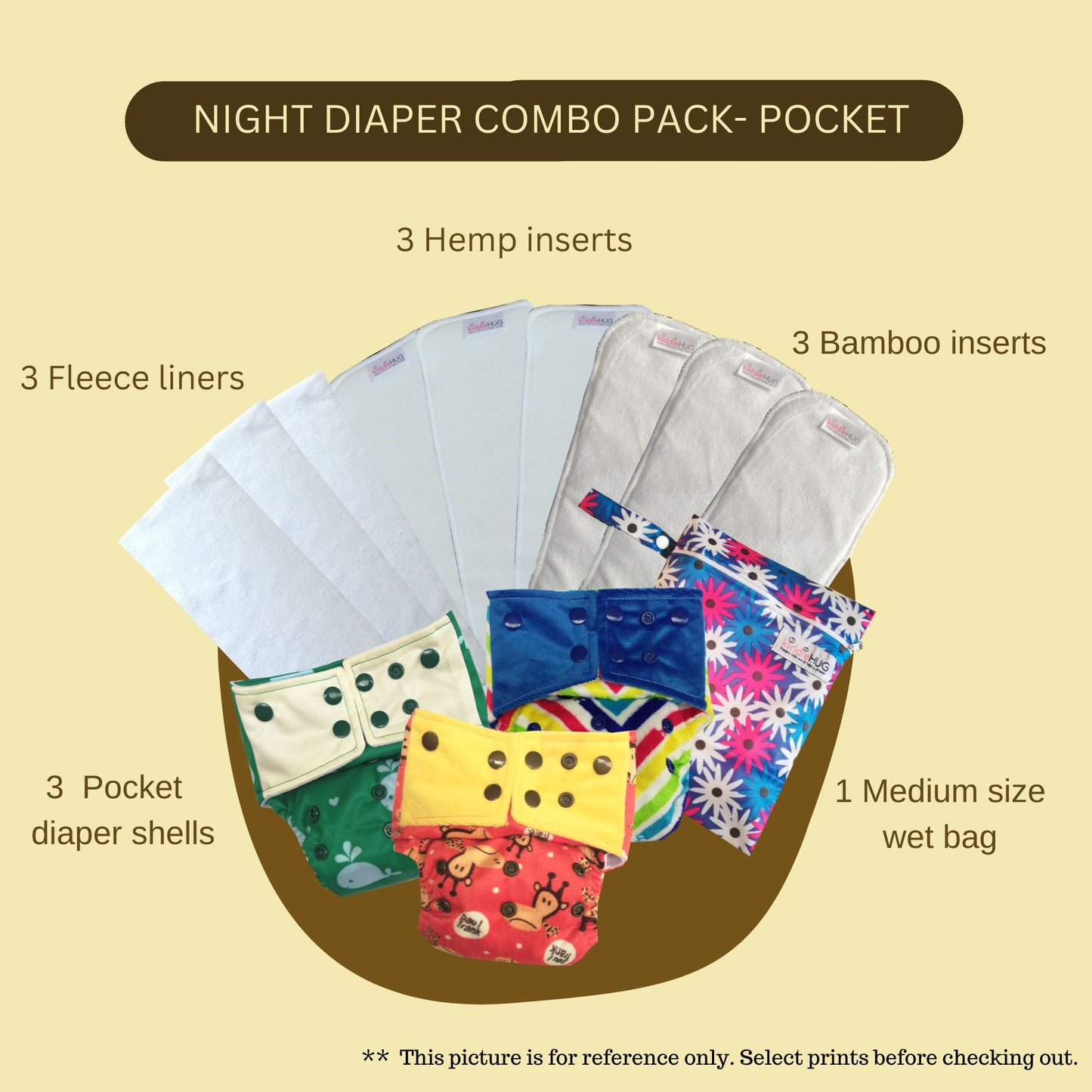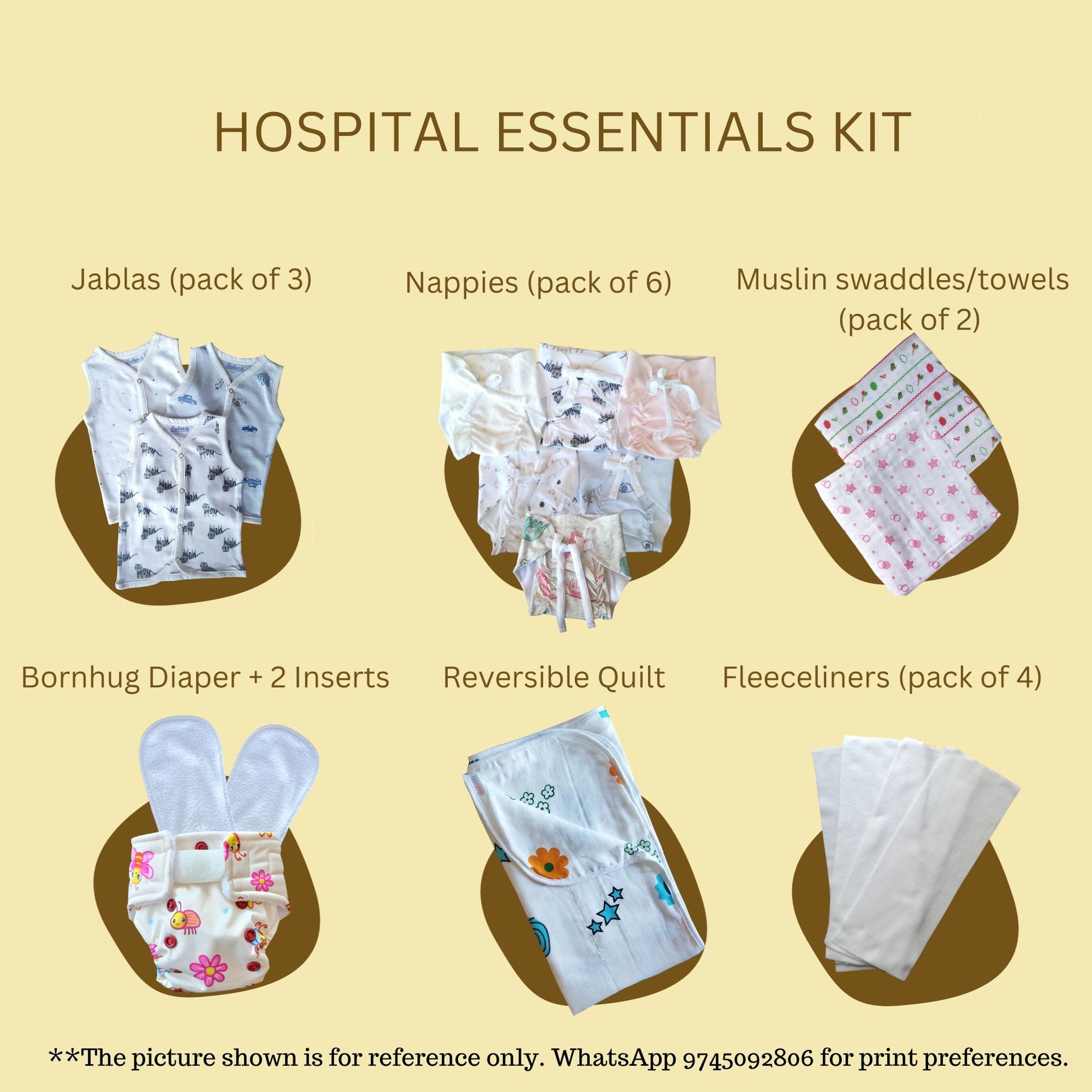 Newborn Combo - Hospital Essentials Kit
Regular price
Rs. 2,999.00
Regular price
Rs. 3,836.00
Sale price
Rs. 2,999.00
Unit price
per
Sale
Sold out
Share
View full details